Having spent over a decade developing and innovating the worlds best inflatable SUPs, Red Paddle Co's Tec Air design team know a thing or two about iSUP production. Since 2018, Red Rescue has been working with leading lifesaving authorities to bring that expertise to the Rescue world – producing our ground-breaking Inflatable prone rescue range. In 2023 those two worlds merge as we release our 11.3 Rescue SUP: a high performance inflatable rescue SUP, crafted to optimise the ability and skill of your lifesavers to effectively manage their waterways and save lives.
This board is the culmination of two years hard work from the Tec Air team, working closely with some of our key lifesaving partners to ensure that the functionality and performance is as would be expected from a new Red Rescue board. Let's take a step back and hear about the origins of the board from Lewis, our Lead Rescue Designer and ex-professional Senior Beach Lifeguard.
"To help explain one reason why we developed the Rescue SUP, we looked at how safety cover for open water swim events is traditionally coordinated. Kayaks and/or prone boards are generally used alongside motorised vessels. The powered craft will provide overwatch, comms support, first aid and fast response casualty transportation. Kayaks and boards are used to help guide and herd the swimmers in the right direction navigating around any hazardous obstacles. These are also used as a buoyant platform for the swimmers to catch their breath on and stabilise when adjusting gear.

In a rescue scenario, the motorised vessels using a prop pose a serious risk to those in the water – particularly in a crowded pack of swimmers. As a result, they are reliant on kayaks and boards to extract a casualty in a swimming pack scenario. They can tend to the casualty before transporting them to the shore or the motorised vessel where further treatment can take place.
By using our Inflatable Rescue SUP instead of a kayak in this situation, there are major gains available in your safety delivery: Whereas in a kayak you are low to the water and your ability to rescue multiple swimmers or a single unconscious casualty is very limited, our Rescue SUP gives improved line of sight for the rescuer and is more identifiable for the swimmers. It gives increased stability for the rescuer with multiple or single casualties.
Importantly as well, in comparison to a conventional SUP, the Rescue SUP has specifically tailored dimensions to maintain sufficient stability, but still easily allow an unconscious casualty board roll. On top of these operational benefits, an inflatable SUP offers vastly reduced storage volume, and far simpler transportation."
Our Rescue SUP is designed to enable lifesavers to manage and patrol large areas and large crowds. It is most effective on calm-waters, where the elevated position of your lifesaver allows them to survey and scan for incidents over a greater area than they could from a prone position. At 11ft 3in x 31in x 4.7in and coming in at 255 litres, the board lands on the perfect balance between speed, manoeuvrability and stability. Giving your lifesaver enough speed to react and arrive on scene quickly, whilst ensuring that the board has the stability to assist multiple tired swimmers and rescue a conscious or unconscious casualty.
With the strategic placement of 10 extra-wide handles, your lifesaver can assist water users in a variety of ways, making it easier to position alongside and helping to ensure fast & effective rescues. We have moved the inflation valve to the nose of the board, meaning that you can comfortably and safely on-board a casualty from the tail – in this instance the lifesaver can sink the tail of the board to help the casualty aboard, without destabilising the board for themselves.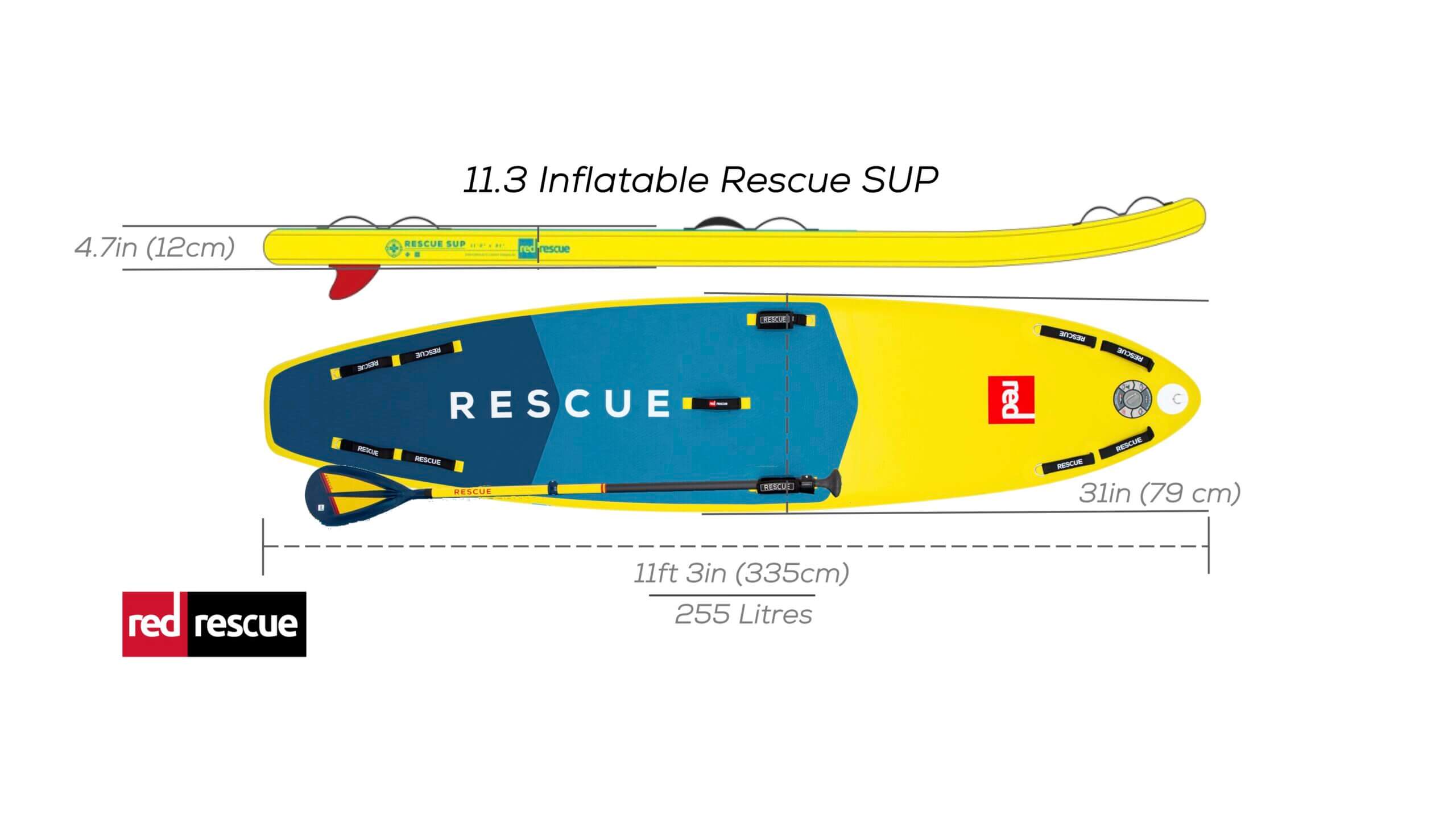 Integrated stainless steel D-Rings at the tail and in front of the standing position allow the attachment of the leash (Coiled leash provided with the package) as well as giving the option to attach towing lines and attach extra gear to the board. We have included two Velcro paddle holders, so that the custom carbon RESCUE paddle (with durable nylon blade) can be stowed on either of the side handles to keep the paddle close to hand.
On the underside of the board we have a front towing eye at the nose and our Red Twin Click-Fins (FCS 1 compatible) at the tail. The super durable twin-fins reduce the boards draught in comparison to a large single fin, allowing for shallower paddling and giving great tracking. They also offer a much more stable platform when loading the board on land and if using the SUP to carry an immobile casualty, the fins can be sunk into the sand or quickly removed when coming ashore to keep the board level.
All of this comes together to give a super durable, transportable and high-performing, rescue craft. The Rescue SUP is the perfect board for safety cover at swim/water events, triathlons and other races. It works fantastically at Aquaparks or watersports centres and is brilliant for managing a swim zone on a calm but busy beach. There are also multiple applications for the use of the board in a flood rescue environment.
Get in touch today to upgrade your fleet and improve your lifesaving delivery with our all new, 11.3 Inflatable Rescue SUP.